As a Swing Substitute, you have the chance to become a star! Check out the details below to see how you can earn and maintain the highest status of Star Sub, and learn about the many benefits that Star Subs receive!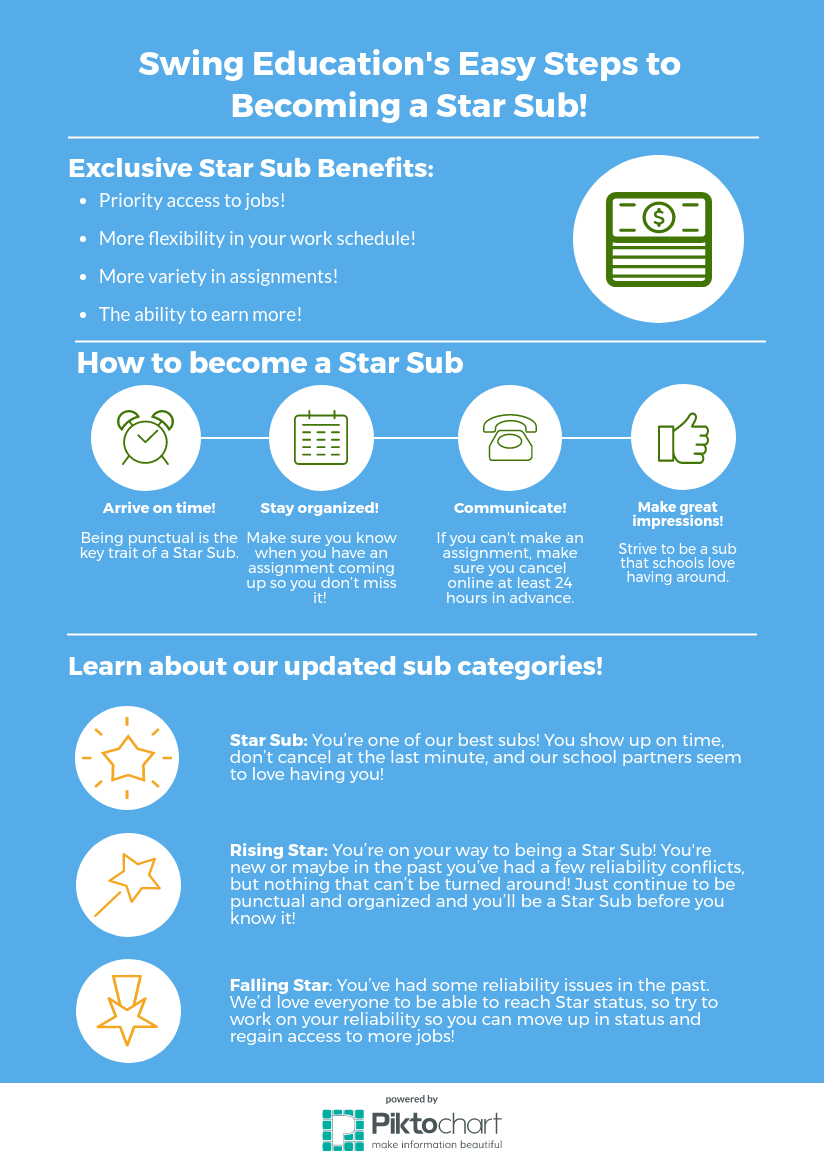 How are Swing Substitutes Classified?
Star Sub: You are among our most reliable and most frequently requested substitutes at Swing!
Rising Star: All substitutes start out here. You may have a few last-minute cancellations or no-shows recently, but you're on your way to becoming a star sub!
Falling Star: You may have had a no-show, late-arrival, too many last-minute cancellations, or negative feedback from schools. You can improve your standing by making it on time to all your requests and getting positive feedback!
How can I see my status?
Go to your sub-profile page by logging into Swing and clicking on your picture in the top right.
Your status will be listed in your private stats. Schools continue to only see if you are a Star Sub.
How to become a Star Sub:
Get positive feedback!

 Schools have the option to leave feedback, so do good work, get a positive review, and avoid negative feedback.

Don't no show! 

No-shows strain school resources and negatively affect your status.

Don't cancel at the last minute!

 Make sure you're mindful of what you sign up for, and don't cancel 24 hours before the assignment starts.

Get preferred!

 Create great relationships with schools so they request you as a preferred sub

Pick up lots of assignments! 

The more you work, the better your stats will be.
Benefits of being a Star Sub:
Swing Education gives extra benefits to our most reliable substitutes such as:
Ability to see requests further in advance!
A "Star Sub" icon visible to schools on your substitute profile
Priority for filling long-term requests
Priority for assignments with new school partners
More flexibility in your work schedule
Access to higher-paying opportunities like the "Swing Heroes" program
If you have any questions about your status with Swing Education, please email us at support@swingeducation.com!