One of the best ways to increase the number of assignments you receive is to complete your profile on the Swing platform. Our school partners often like to learn about our subs' background before requesting them, and completing your profile will make that possible!
How to update your substitute profile:
1. Log in to the Swing website.
2. Click your name in the upper right corner of the screen.
3. Select "My Profile."
4. Click the blue "edit profile" button to make changes.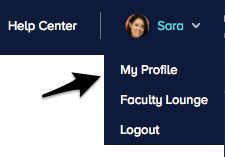 A great profile should include:
A clear headshot photo
Your education background
Your relevant work experience
Specific subject and grade-level expertise
Concise and typo-free writing
A fun fact on why you enjoy being a substitute
Here's an example of a stellar profile: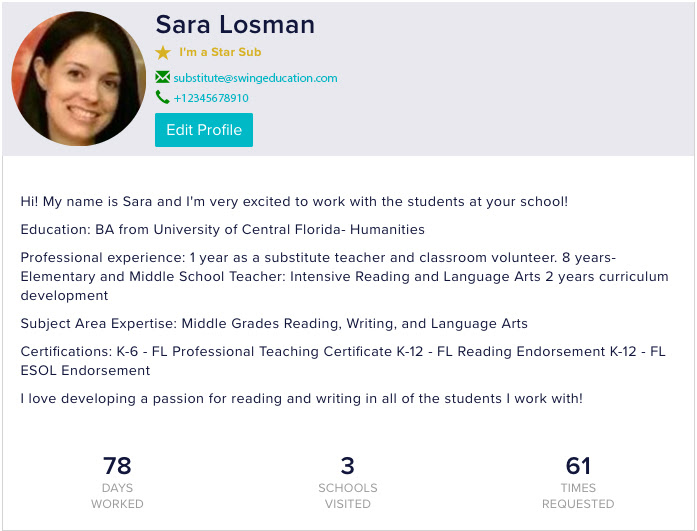 Status and Stats: 
If you have Star Sub status, it will be noted on your profile. In order to earn Star Sub status, you will need to:
Get positive feedback!

 

Don't no show!

Don't cancel at the last minute!

 Don't cancel 24 hours before the assignment starts.
Get preferred! 

Pick up lots of assignments! 

The more you work, the better your stats will be.
Swing Stats:
Swing stats are visible to school administrators and include:
the number of days you've worked as a Swing sub

the number of schools where you've worked

the number of times that you've been "preferred," or requested, by a school.
Private Swing Stats:
These stats are not visible to school administrators and include:
the number of times you've cancelled a request last minute

your overall cancellation rate

the number of times you've shown up late

the number of times you've "no-showed" for a request

the regions that you are linked to
Most Recent Assignments:
This section includes a list of the five schools where you've most recently worked. School leaders might use this information for references when deciding which substitute teacher they would like to fill a request. This list is also a good reminder for you when signing up for future requests.
Below is an example of a substitute profile as seen from your Swing account: