Completing your Swing profile:
Once you accept an assignment, schools will be able to view your profile in advance. That's why you'll want to make sure it looks professional.
What to add to your profile?
A professional headshot
A bio about yourself
Relatable work experience
Any qualifications/certifications
Update your substitute profile now:
1. Log in to the Swing website.
2. Click your name in the upper right corner of the screen.
3. Select "My Profile"
4. Click the blue "edit profile" button to make changes.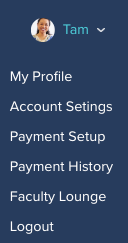 Your "About Me" section should include:
A clear headshot photo
Your education background
Concise and typo-free writing
A fun fact on why you enjoy being a substitute
You will need to complete the "Relevant Experience" section with:
Your relevant work experience
Specific subject and grade-level expertise
Applicable dates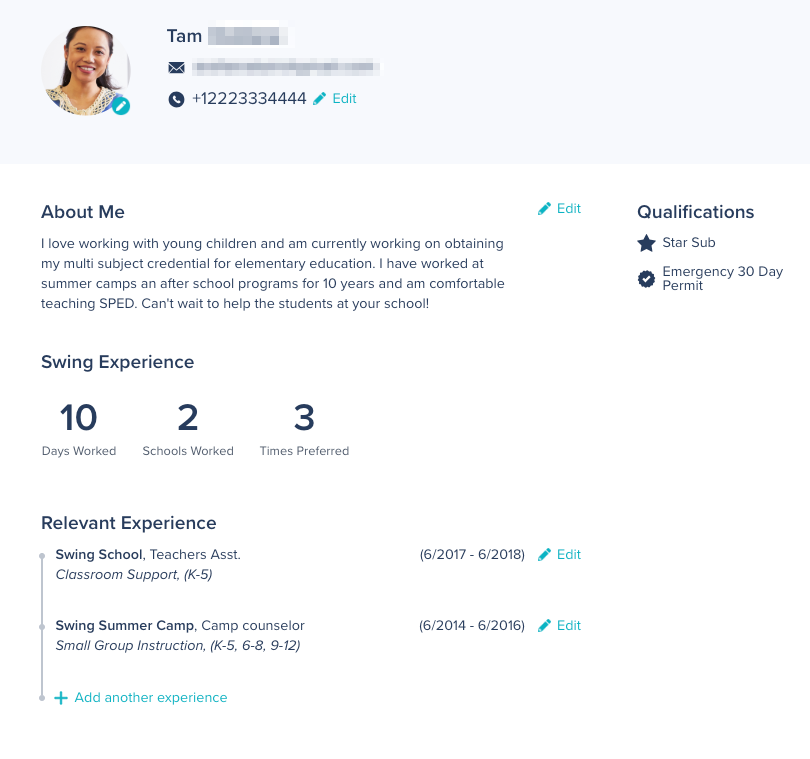 Positive Feedback:
Any positive feedback you receive will appear on your profile page. This will help you increase your chances of landing those long term requests, and being requested. If you don't see any, that just means you haven't received any yet. We encourage you to thank the admin at the end of your day to increase the likelihood they will be inclined to leave you positive feedback!
Swing Experience:
Swing stats are visible to school administrators and include:
the number of days you've worked as a Swing sub

the number of schools where you've worked

the number of times that you've been "preferred," or requested, by a school.
Private Swing Stats:
These stats are not visible to school administrators and include:
the number of times you've cancelled a request last minute

your overall cancellation rate

the number of times you've shown up late

the number of times you've "no-showed" for a request

the regions that you are linked to