What are Waitlists? (FAQ's)
How do I know that I was added to a waitlist?
"Thanks for responding! XXXX was filled by somebody else, but we've added you to the waitlist. Visit https://subs.swingeducation.com to see 1 request still open on this day."
Or
You selected "View Details" to see the details of the request, then clicked the "Add Me" button. "Add me" is an indication that it is a waitlisted request.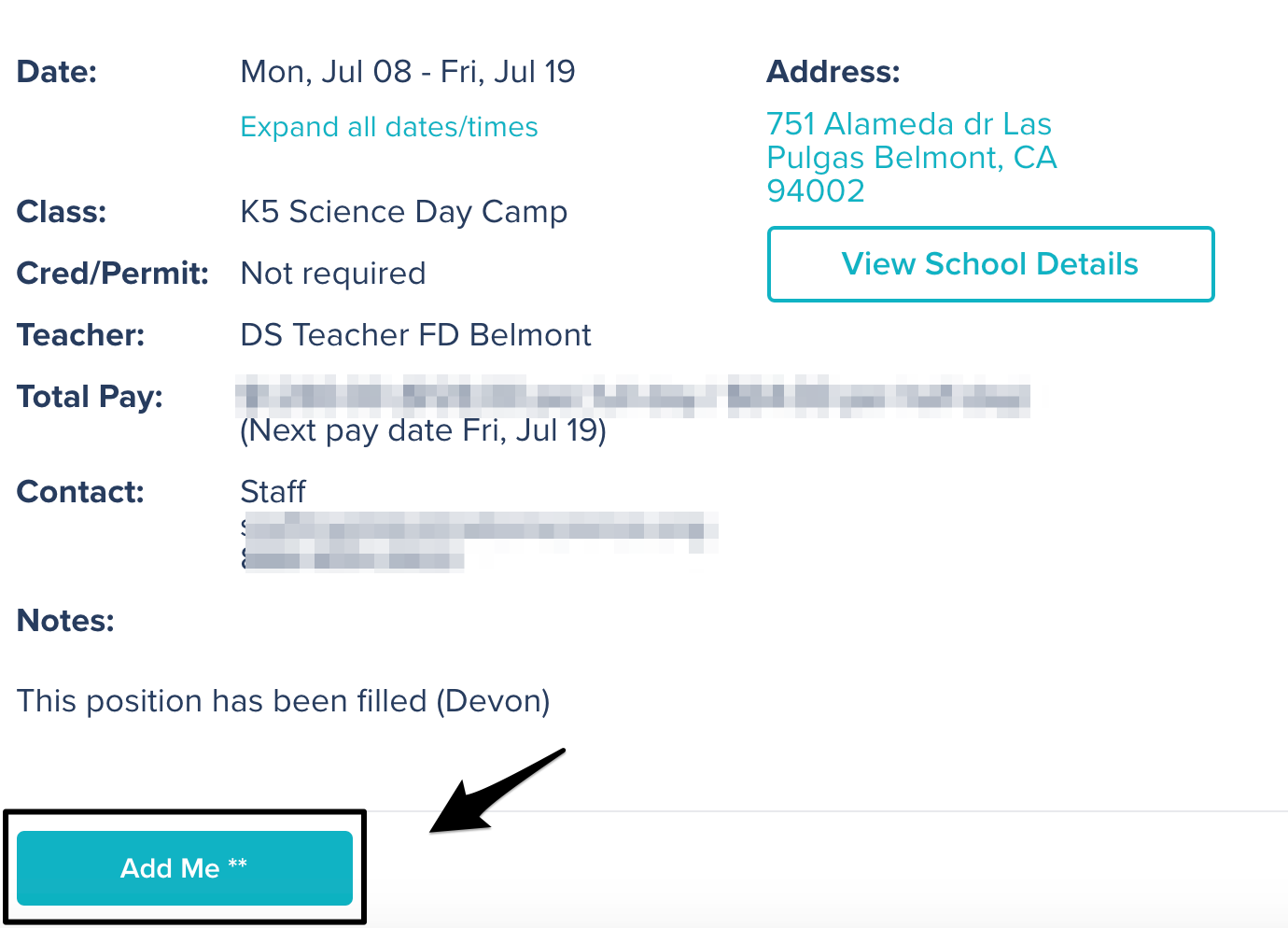 Why was I put on a waitlist?
Below are reasons why you may be put on a waitlist:
A request is filled and a waitlist is created in case the original substitute cancels

To show that you are interested in a long-term request

You want to accept a request, but the start time has already passed
Will I be notified if I am selected off of the waitlist?
Yes. You will receive a text confirmation and do not need to do anything further to accept the request. Sync your google calendar to ensure you do not miss the notification!
Will I be selected off the waitlist to fill last-minute requests?
No. If the original substitute cancels the request within 48 hours of the start time, Swing will notify the entire pool again and will not select a substitute from the waitlist.
I accepted a request for today that has already started and was added to a waitlist. Should I head over to the school?
Not yet. The school might no longer need coverage for this request. Feel free to call the school contact and see if they still need someone. If they do, remind them to select you off of the waitlist.
A principal called me from the waitlist because the original substitute didn't show up for the request. Am I required to accept?
No. You can remove yourself from waitlists if you are no longer available, but we understand that it isn't always easy to remember which waitlists you've signed up for. However, If you are available to accept the request last-minute, the school would be REALLY grateful!
Do I need to remove myself from a waitlist if I picked up a different request on the same day?
No. If you pick up other requests, you will be marked as "unavailable" on the waitlist.
My name is on a waitlist for a long-term request. How will I know if I've been selected?
The school will contact you to have you come in for an interview. Until that happens, feel free to continue accepting other jobs as you can cancel those requests without penalty if you are accepting a long-term request.
I am interested in a long-term request but I am already confirmed for assignments that occur during the long-term request, should I still add myself to the waitlist?

Yes. If a school requests you for a long-term request we will work to get your other short-term commitments filled, if possible, to help you be available for the long-term request. Do not cancel your short-term requests yourself - we will help you with that if this situation occurs.